Web Service
Web Hosting Service / Web Design and Development Service

Content Management
Website management system under the NSCMS trademark

Software Development
Manage, analyze and develop the system by a team of experienced

Professional Teams
The company under Samart Corp. which have more 10 years of experience in Management and System Development.
About
About Us
We are the management team and staff with experience in Management and Management including the design and Development of software systems for more than 10 years for leading companies in Thailand and abroad.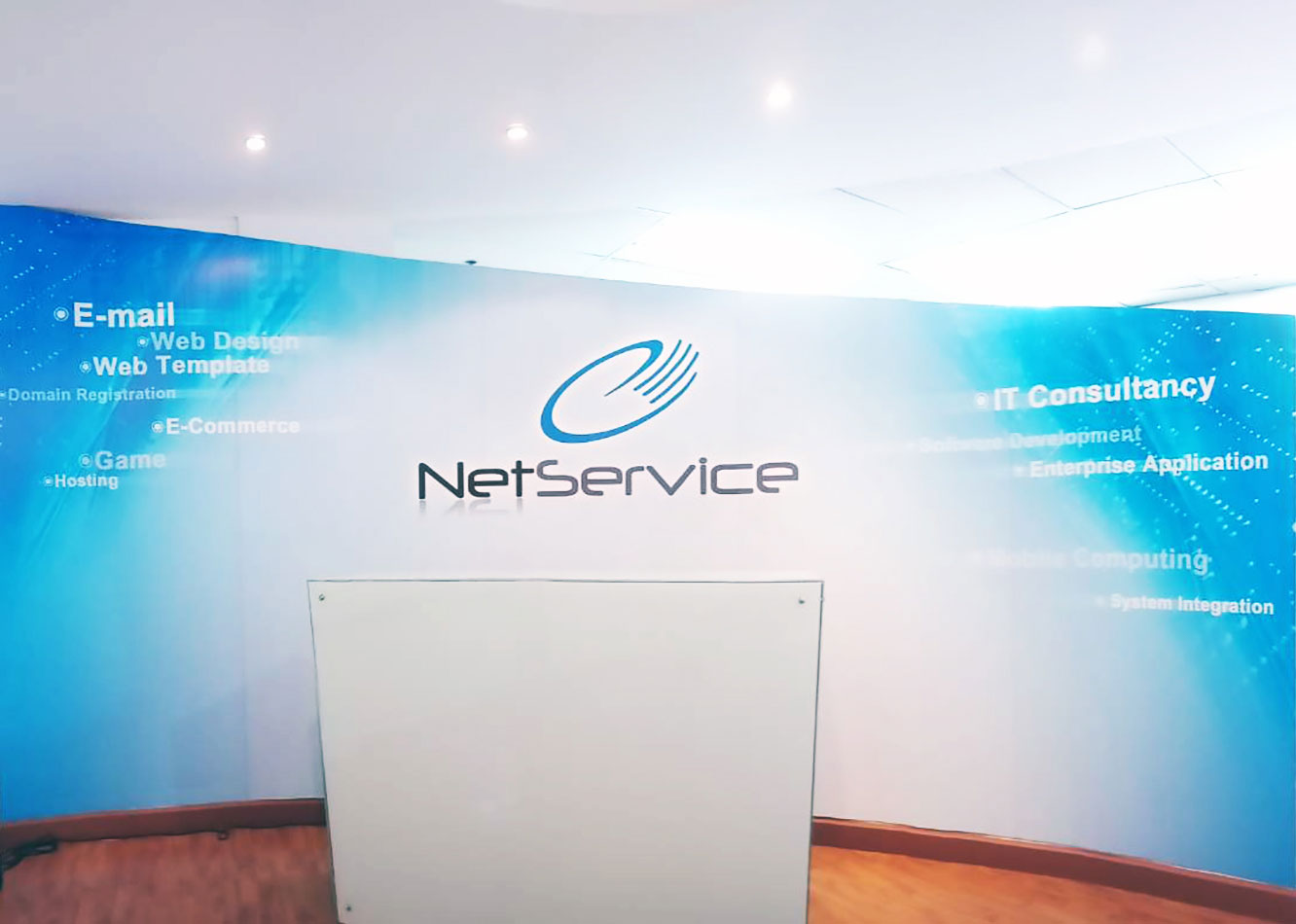 Our background
Netservice (Thailand) Company Limited. was established in early 2007 by a group of engineers, analysts and software system designers who have worked closely with each other and have experience in large software development projects. Both government and financial sectors Banking for more than 10 years with the aim of developing and building a business that has been done together before is providing Web hosting service in the name of www.4gbhost.com
The business development and extension approach focuses on being an information manager (Content Management) and providing a complete Web Site development and design service. Enterprise Application for organizations Both public and private sectors
Services
Our Services
We focus on providing complete internet services. From renting the basic network to designing and developing systems on the Internet according to customer needs. With a focus on providing fast service that meets Customer requirement And give the most benefit to customers will be the first

Web Hosting
Netservice (Thailand) Company Limited. Providing domain registration services, having partnered with OnlineNic, a major overseas domain registrar, and partnered with THNIC, a provider of all .th domain extensions in Thailand. The company has been entrusted to be a Platinum Reseller of both OnlineNic and THNIC, and also provides website hosting services by partnering with CS Loxinfo and Pacific Internet, where we currently have customers using our web hosting services on www.4gbhost.com more than 15,000 of government and many private companies.

Web Design and Development
For customers who do not have knowledge of making a website The company also offers a full range of services from website design, logo, Domain registration, E-mail preparation, Web Board, Banner, Photo Gallery, Online Poll, Multi-language Support, Shopping Cart, Product Catalog, Newsletter, Flash Animation.
And for customers who want to have a Web Site that is cheap and quality. But the system is not complicated, we have also developed a system in the form of a Web Template that allows users to choose the format and manage their own content without needing to have any knowledge of website making. Just choose the format of the website that you want, as we have more than 500 models to choose from, the system will quickly create a website for customers in less than 10 minutes, which will increase the convenience for those who want to have a website but cannot do the web. Can choose to use this service of ours The system has been developed by a team of Net Service (Thailand) Co., Ltd. to meet the needs of customers who want to have a website in various forms such as a web for sale, a company website or even a personal website can be used.

Website Management System
Netservice (Thailand) Company Limited. We are proud to offer a web page management system under the NSCMS trademark, which is a system that can easily and efficiently manage website pages by Netservice (Thailand) Co., Ltd. has developed and installed systems for many government agencies such Such as the Thailand Board of Investment (THAILAND BOARD OF INVESTMENT) and other agencies who keep paying attention

Professional Teams
Our team consists of Executives and Staff with more than 10 years of management and management experience and software system design and development with leading companies in Thailand and abroad. In the banking system, such as the Check Clearing system, Call Center, Workflow Management or government agencies Private agencies and foundations It gives expertise and understanding of problems and can provide guidance for system development in various forms. To the customer appropriately
Portfolios
Our Portfolios
Netservice (Thailand) Company Limited. has developed and installed a variety of applications on the Java and MS .NET platform in the form of 3-Tier Application, Web Application, Desktop Application and Mobile / Device Application that run on PDA or control hardware for government sectors such as MIS system and Workflow, Department of Probation and Department of Rights and Liberties Protection, E-logistics (RFID & GPS) Pilot Project, Thai Post Company, MIS System, Breast Cancer Center Siriraj Hospital, Check Clearing system for Bank of Ayudhya and Information system for Department of Lands, etc.
In the past, customers were very satisfied with the system that was delivered. And trust in using the service continuously The company is focused on building a quality system that meets the requirements. And suitable for efficient use

Department of Probation
MIS System and Workflow

Right and Liberties Protection Department
MIS System and Workflow

Thailand Post
E-logistics (RFID & GPS) Pilot Project

Breast Cancer Center of Siriraj Hospital
MIS System
Bank of Ayudhya Public Company Limited
Cheque Clearing System

Department of Lands
Information System
Careers
Join with us
Netservice (Thailand) Company Limited. Is a technology system developer Information for both public and private agencies We are a subsidiary of Samart Corporation Group. Which has a systematic management Having good returns and welfare with stability

Need knowledgeable and competent employees to support work expansion In various positions as follows
Developer / Senior Developer

Qualification :
Bachelor of Science in Information Technology, Engineering or a field related to information systems development (GPA greater than 2.7) has the knowledge and understanding of programming technology as follows

Java/J2EE เช่น Servlet, JSP,AWT/Swing Applet, EJB, Strut, Spring, JDBC, Hibernate, Apache Common, JSF, Java Mail etc.
Web Technology เช่น HTTP, XHTML , XML, AJAX, Web Service, DHTML, PHP
Mobile Application เช่น Android, iOS
Good understanding of databases on Oracle DB and SQL Server.

Able to communicate effectively with the work team Good teamwork
At least 1 year of working experience in programming or system development (welcome new graduates who is ready to learn)

System Analyst / Senior System Analyst

Qualification :
Bachelor or Master of Engineering, Science, Information Technology Or a field related to the development of information systems

Good knowledge of technology and programming
Able to analyze work systems to meet the needs of customers
Able to communicate effectively with the work team good teamwork
Have at least 2 years working experience in system analysis and design
Have been working with government agencies, Will have a special consideration

Bonus and other benefits

Those who are qualified will receive minimum salary of 35,000 baht per month, bonuses and many other benefits.
If interested in working with us send application documents to supaporn@netservice.co.th or sitiporn@netservice.co.th

Or apply by yourself at Netservice (Thailand) Company Limited.
No. 62 Thaniya Plaza BTS Wing Building, 10th Floor, Silom Road, Suriyawong, Bangrak, Bangkok 10500
Monday - Friday 8:30 AM - 5:30 PM except holidays.
Contact
Contact Us
Netservice (Thailand) Company Limited.
No. 62 Thaniya Plaza BTS Wing Building, 10th Floor, Silom Road, Suriyawong, Bangrak, Bangkok 10500
Email Us
4gbhost@gmail.com
customerservice@4gbhost.com
Contact
Tel : 02 632 9396-99
Fax : 02 632 9395